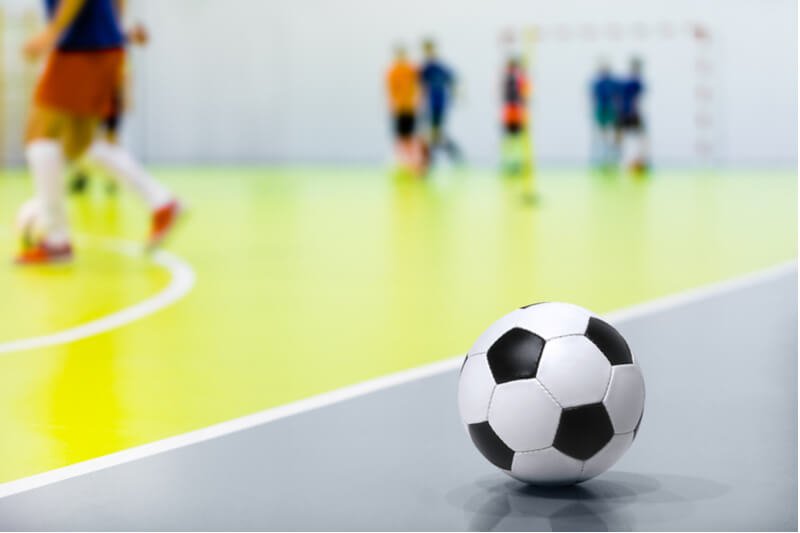 Futsal is an engaging and action-packed sport that's huge in Latin America and Spain and has been for many years! However, with our nation's love of football (the Nation's Game) and the great opportunity it gives players to improve their ball skills and up their fitness, it's no wonder that futsal is also gaining traction in the UK.
Though there are substantial differences between football and futsal, the basic premise of each of the sports is very similar. They both have two teams, and require players to kick a ball into the opposition's goal to score the most points. So, despite their differences, playing futsal can enable players of all ages to develop skills and tactics that can improve the way they play football.
With football being a key part of the curriculum for many schools' offerings of physical education, this is why incorporating futsal into P.E. lessons is a great idea for teachers.
Futsal vs. football: what's the difference?
The game of futsal as we know it today has an interesting history. It was originally invented in 1930 by Argentinian coach Juan Carlos Ceriani as a form of five-a-side football to be played indoors. He created the game for recreation in YMCAS, and it was originally played on basketball courts.
The game quickly grew in popularity throughout Uruguay, Brazil and other parts of South America due to the fact that it could be played by anyone in any weather condition. Despite this, it was only in 1989 that the sport was given the name of futsal when FIFA became the governing body of the sport. In that same year, the first FIFA Futsal World Championships were held in Netherlands, and more Associations began to adopt it as it surged in prominence.
Here are some of the key differences between football and futsal:
• Futsal has 5 players per team, while the standard game of football has 11.
• Futsal is played for 40 minutes (in two 20 minute halves), while a football game is typically 90 minutes long (and is split into two 45 minute halves).
• Futsal is played with a size 4 football with 5% bounce, while football needs a size ball 5.
• If a ball is out of play, futsal requires it to be kicked-in, while it will be thrown-in in football.
• Futsal allows a maximum of 5 fouls per half; this is unlimited in football.
Because futsal requires less players and is intended to be played indoors, it's a great option for schools to incorporate into P.E lessons when classes are small and weather conditions aren't good enough for lessons to be taken outside.
How futsal can improve your football skills
Futsal players develop many transferable skills that can also be taken into the game of football. In fact, the best latest tips come from Lionel Messi, Cristiano Renaldo and Pelé who grew up playing futsal before becoming regarded as some of the world's best professional football players!
Here are some of the main transferable skills and tactics:
• Futsal's smaller, heavier ball can be harder for players to control, which gives them an optimal chance to work on their basic ball control and manipulation skills. These are particularly useful when it comes to getting the ball past opponents in both football and futsal.
• Due to there being less players and a smaller pitch in futsal games, players will have increased handling of the ball, and they will be involved in more one-on-one situations during gameplay. This will help them to improve techniques such as passes, dribbles, fakes, feints and ball-traps.
• The shorter play time and smaller pitch also means that possession can be lost quickly, so you need to develop the ability to make fast decisions under pressure, as well as be able to predict how other players are going to act before they make a move.
• The smaller, heavier ball can't be easily kicked a great distance across the pitch, unlike the ball that would be typically used in a football game. This means that futsal players are required to carry out more short passes, which again, improves their ball control skills.
Futsal is a fast-paced sport that requires a great deal of technical skill and quick thinking. This makes it a great game to teach your pupils if you want to help them also improve their skills in football, as well as adding some variety to their P.E lessons!