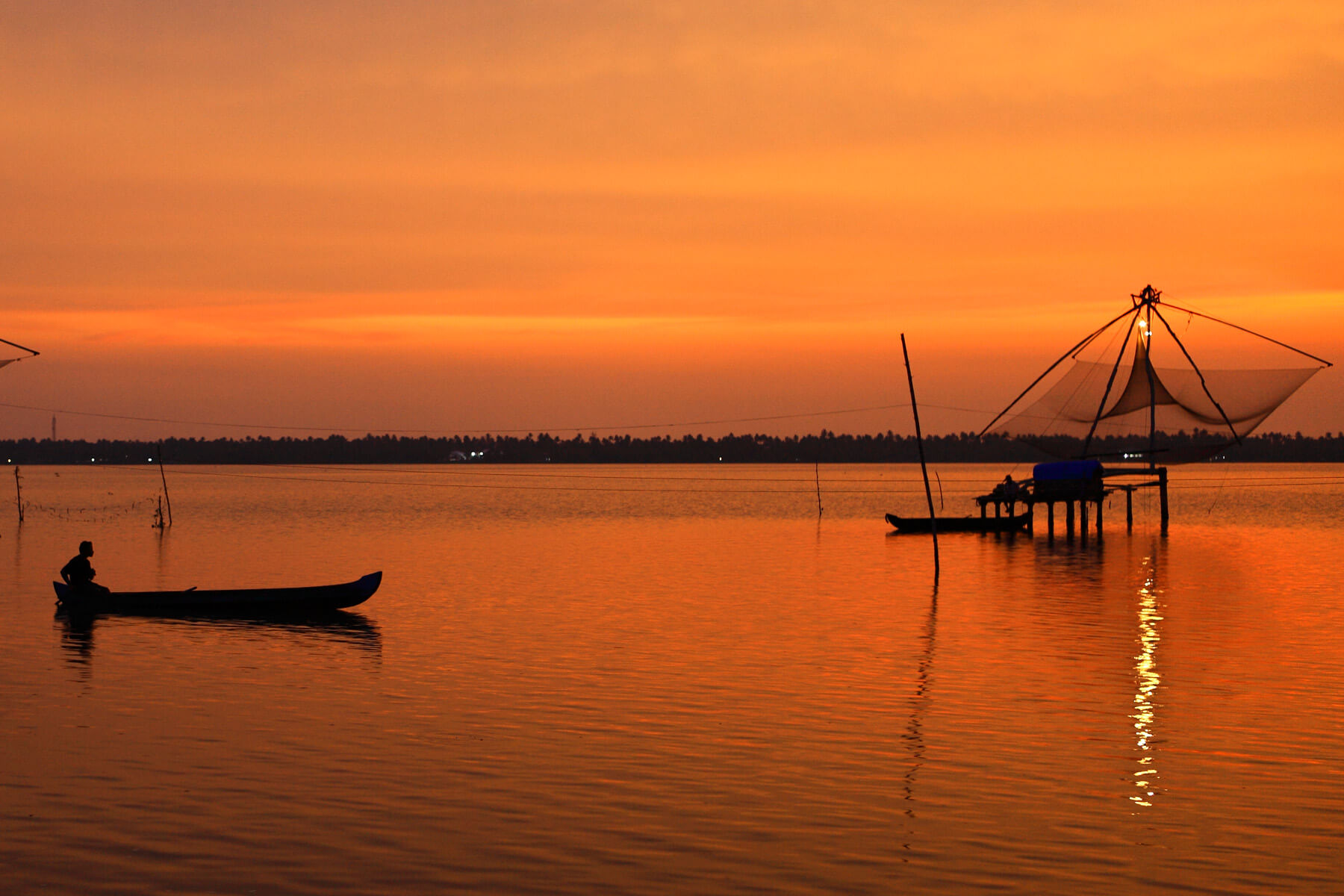 Kerala - February 2020 Inspection Visit by Owen Grant.
As part of our ongoing product development and spurred on by the recent sponsorship agreement with the English Schools Cricket Association competitions, inspiresport had been looking for a new destination to offer for sports tours but primarily cricket focused trips.
Although widely played, the number of destinations that can offer suitable opposition, accommodation, and value for money on cricket tours is still quite limited, so we were keen to explore a different version of the classic Indian options for some inspiration.
I knew Kerala for its backwaters, seafood and sunsets so after getting some local reassurances it was a viable sporting option, we selected some great value flights thanks to the many scheduled routes, and sent out some invites to hopefully get a teachers perspective of the trip first hand.
February the 14th rolled around and I was lucky enough to be spending Valentines with two lovely teachers from excellent cricketing schools. We soon checked in with the staff from Qatar Airways and were quickly through the pre-immigration checks thanks to our E-Visa's.
Once on board, you are brilliantly looked after with Qatar and their excellent hospitality. The nice short transfer time in Doha, which are ideal for group travel, soon became a concern due to our delayed departure as I nervously glanced at the watch knowing we were cutting things fine. After notifying the airline staff though, we were met on arrival into Doha and pointed in the right direction for our connection. Everything was brilliantly co-ordinated, and we worked up a sweat sprinting through Doha International for absolutely no reason as our next flight duly waited for some other passengers less athletic/enthusiastic than ourselves.
The shorter flight into India went without a hitch, so a couple of films and a breakfast curry later, we were into Kerala and met at Cochin with the usual Indian hospitality of smiles, hugs and flower garlands. Cochin International Airport is a pioneer in reusable energy with one terminal running on solar power which is a great development and real bonus when looking at our sustainable tourism program.
Traffic is certainly less manic than in Northern India but still a far cry from my quiet country roads back home, so expect journey times to vary and be on the generous side with timings when looking at your itinerary. The sights and sounds on these road trips are part of the charm though and in true India style, we soon pulled alongside a lorry laden with the unusual passenger of an elephant heading to a local temple.
Over the water, we arrived on Willingdon Island and checked in to the Casino Hotel for a quick change and respite. The hotel is ideal for groups, with its secure and quiet location, swimming pool, good WiFi and varied dining options. We then transferred the short distance to Le Meridien Hotel for a fantastic buffet lunch and tour of the impressive riverside resort with excellent swimming pools, expansive grounds and luxurious décor.
On this afternoon, we had two cricket venues to visit within a few miles of each other making them excellent options for teams touring with two sides. The Rajagiri College Ground has a lush outfield and well-maintained grounds which are a testament to the Kerala Cricket Association who oversee all the maintenance work. As with most Indian match venues, the facilities are modest but there are a some nets available as well as changing rooms and toilets. The venue has also hosted the Indian ladies' team on several occasions as well as many first-class competitions.
The St Pauls Cricket Ground had a real buzz to it on arrival with a local fixture in progress. The reddish tinge of the sub-continent grounds was more obvious here with a little less grass coverage, but the pitch still looked and seemed to be playing beautifully. After taking in a bit of the game and some of the hosts Chai Masala (Tea), we headed to the waterfront for a sunset cruise around the harbour before dinner back at the hotel.
Our second destination was Munnar, a high-country spot nestled in the hills amongst the tea plantations. Due to the drive time, it is often overlooked but time permitting it is a fantastic place to visit that has plenty to offer. The drive itself is spectacular, passing through rainforest and climbing into the hills before arriving at our lunch spot in the High Range Club. A real insight into the colonial past of the nation and the Tea trade, this amazing venue offers the opportunity to play a cricket match in the most spectacular of settings. If play is slow, you can even get a few holes in on their par 3 golf course.
A short drive away, we found ourselves at the Lockhart Tea Factory & Museum where we learned about the tea making process, saw the factory in full swing and enjoyed a nice cuppa afterwards while taking in the most spectacular views of the surrounding countryside and seemingly endless plantations. After a walk around some of the plantations, we loaded up and continued to the Tall Trees resort which is an idyllic retreat set back amongst the trees on a hilltop. The views are beautiful, and it is a fantastic place for some relaxation after travel, or a recovery session walking round the marked trails, or with their guided yoga sessions.
After a spectacular sunrise and delicious breakfast, we left Munnar and headed to Thodupuzha which is about halfway between Munnar and Cochin. It's a rural setting and a different vibe to the other areas we had visited so far but just as I was questioning the reason for adding this to our itineraries, our driver pulled up at the Kerala Cricket Association facility. This venue comprises of two full size grounds side by side which have been purpose built for high level fixtures in the region. Myself and my fellow tourists have been fortunate enough to visit many world-class grounds and all agreed that this was certainly a contender and a real hidden gem.
To ease the travel times on the twin grounds, we had arranged an inspection at the Four Points Hotel based on the outskirts of Cochin. This new hotel did not disappoint, boasting spacious high-quality rooms, a fully equipped fitness centre, leisure facilities and a stunning rooftop pool. An amazing addition to any itinerary.
After another fantastic buffet lunch, we continued to Water La Theme Park which combines rides and entertainment with a water park. A great excursion for some R&R and a welcome break from the increasingly humid weather.
In stark contrast to the last couple of visits, we next headed towards Fort Cochin to visit a charitable organisation called Sneha Bhavan where they offer sanctuary for children who have been orphaned or abandoned. The program offers education and housing all the way through to 18+ and we were fortunate enough to meet several volunteers and residents. Strangely, football seemed to be the preference, so we took to what vaguely resembled a field for a very hot match before trying to push the idea of a more gentrified and shaded cricket match. After handing over some very generous and gratefully received donations, we said our farewells and headed to the next location.
Around a two-hour drive south and we found ourselves in Mararikulam where we have two great accommodation options both set on the wonderful palm fringed golden beaches. Turtle Beach offers a fantastic setting with individual huts set amongst the palm trees. It is an idyllic spot to finish off any tour itinerary and comes highly recommended. Should you have the extra budget, pure luxury can be found at nearby Marari Beach.
After a morning on the beach, we transferred the short distance to Alleppey where we boarded one of the iconic houseboats for a cruise on the backwaters of Kerala. This is probably the image conjured up when you think of Kerala and it truly is a wonderful excursion. Drifting the waters, you can see locals going about their daily lives and plenty of wildlife all whilst enjoying some top hospitality with refreshments and a home cooked meal. In the evening, we checked in at Lakesong Resort, a beautiful hotel perched pretty much in the backwaters. A very picturesque hotel with all the amenities you could want and famed for the wonderful sunset best enjoyed from their viewing areas along the back of the grounds.
For our final day, we first headed out into the local villages to take part in the responsible tourism programme where you are invited to see residents going about their daily work. It was wonderful to watch and interact with the locals who were very welcoming. The residents receive funds directly from the initiative helping to maintain their traditional way of life whilst keeping tourism sustainable.
The last of the cricket venues was Tripunithura Palace Oval which has an amazing history with its links to royalty and the development of the limited over game which was first played at this site in 1951. This site may not be as glamorous as some, but it does have a certain feel to it that I think any tourist would appreciate. The rustic charm of it and the abundance of locals keen to watch, join or talk cricket make for a great spot.
We spent our last bit of time sightseeing in Fort Cochin with a walking tour including the diverse historic sights of the Commonwealths oldest synagogue (from 1568), Mattancherry Palace built by the Portuguese in 1555 and St Francis CSI Church which dates back to 1503 and was the original burial site of the famed explorer Vasco da Gama. We finished in true Keralan fashion, sat at a waterfront venue watching the glorious sunset behind the famous Chinese fishing nets.
I was assured by our local contacts in destination, that Kerala offered everything you could want from a sports tour destination with luxury accommodation, incredible sightseeing, cultural experiences, and a great sporting infrastructure…and I can wholeheartedly confirm – it did not disappoint!
Don't just take Owen's word for it…
"Kerala is a beautiful location to travel to and there is an obvious love for cricket and sport in general. The diversity of the location is superb and allows for city, mountain and beach locations to be visited which is a unique aspect of the location. The venues are well maintained from the twin grounds outside of Kochi which were impeccably manicured to the rather more basic but just as impressive Munnar ground in the hills. The quality of teams will be high and due to the number of willing players easy to set up and balance standards effectively. There is a great mixture of cultural and environmental highlights to the location. Hotels are very good standard; nearby, clean and with excellent food options. Transport is well organised and despite the traffic and business very easy to get around the city and surrounding area." Dominic Atkinson – Gresham's School