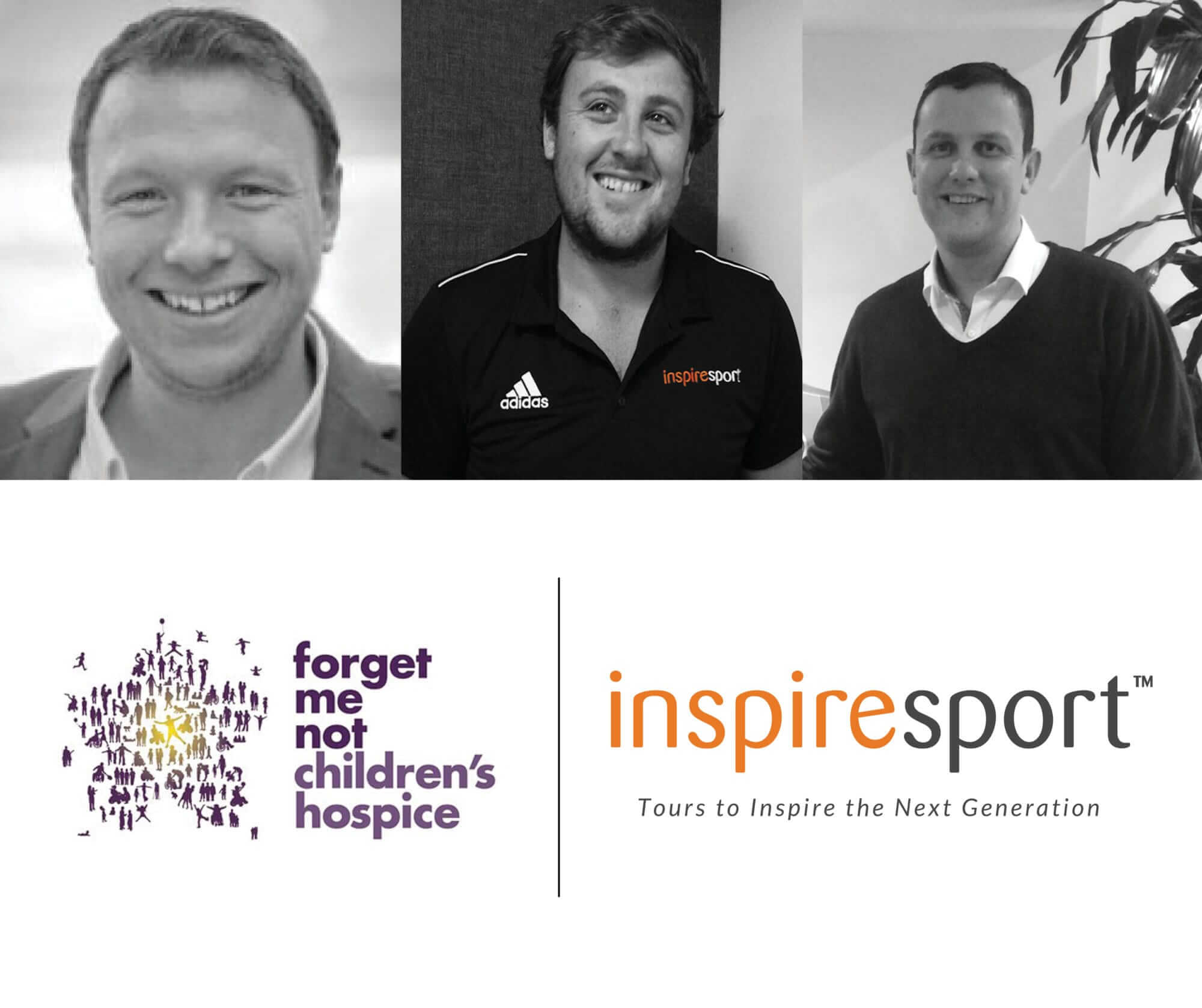 With the Y3Peak Challenge only 2 days away, we caught up with the final 3 members of the inspiresport team, our CEO Steve Butchart, Financial Director James Bygate and Ancillary Sales Manager Jack Lewis to find out how they were feeling about the weekend…
What made you decide to join the Y3Peak Challenge inspiresport team?
SB: It's a fantastic cause to be backing so there was no chance I wasn't going to be part of the team. From a business perspective, when we've completed similar challenges in the past there have been noticeable benefits as a result of this kind of team bonding.
JB: I'm always looking for ways to motivate myself and improve my fitness – I exercise regularly by going to the gym and complete at least one spin class a week. Having a 'desk job' it's very easy to find excuses not to train but agreeing to be part of the team for this challenge has certainly encouraged me to keep training and get lots of cardio sessions in.
JL: Forget Me Not Children's Hospice is a great cause to support…and I was promised it would be 'fun' – although I'm beginning to question that part now! Apart from playing cricket twice a week where any calories burnt are offset by the 'tea' consumed, my activity levels aren't great so I thought this would be a good opportunity to make an improvement…saying that, I have walked up Pen Y Fan in flip flops!
What do you bring to the team? What's your role within it?
JL: Probably the biggest blisters as I have new walking boots which haven't really been worn much (long story…) but as the baby of the team, I am hoping to be carried part of the way if I get too tired!
SB: I'm definitely the old guy at the back providing experience!
JB: As FD – I'll oversee the post walk drinks kitty….
Who are your 'support network' and how have they helped you in the build up to this challenge?
JB: My family have provided me with lots of encouragement and extra motivation through sponsorship. Plus, my dad is a regular mountain walker and has let me borrow all his kit which has saved me a few quid! My wife Jane has also volunteered to join in as an inspiresport team member for the day, so we'll be able to help each other along the way…as long as she carries the packed lunches!
JL: My girlfriend has been my walking partner and my mum insisted on buying me new walking boots following the palaver of me purchasing kids size 11 shoes by accident…the perils of shopping online!
SB: I have coerced/bribed my kids into a couple of training walks in the Lake District…but as I'm recovering from a stress fracture in my lower leg, training has been limited! Obviously, my team-mates will confirm that I've hardly mentioned my broken leg as I don't like to talk about it!
What are you most looking forward to?
SB: Genuinely, it will be great to spend some quality time with the team outside of the office/work environment.
JB: The pub at the end…
JL: Definitely a cold beer after the finish!
And least looking forward to?
JL: The 3rd and final peak…and each decent, they were really tough on my knee during the practice walk I did.
SB: Having to make small talk at any point after 15 miles!
JB: The 5.30am alarm on Saturday morning will be difficult…
Do you have any specific tactics or plan to ensure you complete the challenge?
SB: I'm sure there will be times when we all need to provide encouragement to each other – teamwork will be the key!
JB: Yes – not to look at the top of the mountain(s) and not to focus on the bigger picture, just take on what's in front of us.
JL: My plan is to stick with the group and avoid dropping off the pace…I don't like to think too far ahead but I'm sure I'll be fine!
It's not too late to support the Y3Peak Challenge inspiresport team in the charity hike for Forget Me Not Children's Hospice – all donations are gratefully received on our Just Giving page.